From the Bible
Read Psalm 139:1-6
You have searched me, Lord,
and you know me.
You know when I sit and when I rise;
you perceive my thoughts from afar.
You discern my going out and my lying down;
you are familiar with all my ways.
Before a word is on my tongue
you, Lord, know it completely.
You hem me in behind and before,
and you lay your hand upon me.
Such knowledge is too wonderful for me,
too lofty for me to attain.
About Thomas Merton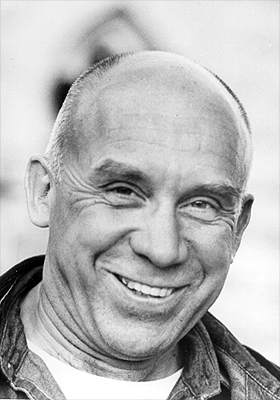 Thomas Merton, known to the other monks as Father Louis, was born in 1915 in the south of France to a American mom (a Quaker) and Kiwi dad (a painter).  He was baptized as an Anglican. When Thomas was six years old his mother died of stomach cancer. He was sent to live in the US with his grandparents while his father, an artist, often travelled. As an early teen, he was reunited with his dad and was educated in Europe until his father passed when he was 16. After finishing school, Thomas was agnostic. In 1933, while in Italy, Thomas experienced a sense of spiritual emptiness, anxiety, and a hope that would lead to a dramatic conversion.
In 1938, while finishing up a M.A. in English (focus on William Blake), Thomas joined the Catholic church after experimenting with other forms of Christianity. He was rejected by the Fransicans and did not feel drawn to become a priest. In 1942, he was accepted as a novice monk at the Abbey of Our Lady of Gethsemani in Kentucky.
His abbot directed Merton to write his autobiography, which became The Seven Storey Mountain. The book became an unlikely best-seller and is considered today to be one of the spiritual classics of the modern age.
Merton would go on to write poems, articles, essays, and more than 60 books, among them New Seeds of Contemplation, The Sign of Jonas, Conjectures of a Guilty Bystander, and No Man Is An Island.  In the latter decades of his life he became increasingly interested in Asian religions, particularly Buddhism.  His leadership helped spark Christian-Buddhist dialogue that continues to this day. Merton is an example of a devoted Christian who had dialogue with others respectfully and as a learner. He was particularly interested in Eastern ways of thinking and understanding of self. His conversations about these issues were largely with other monks, Christian and Buddhist as well as his superiors. His writing explored many of these concepts and process. His abby still receives revenues from his work. His work telling the stories of the Desert Fathers and Mothers has been inspirational and influential to many. His work has been translated into over 30 languages.
Merton died on this day in 1968 of an accidental electrocution while attending an interfaith conference of contemplative monks in Thailand at 53.
"You do not need to know precisely what is happening, or exactly where it is all going. What you need is to recognize the possibilities and challenges offered by the present moment, and to embrace them with courage, faith and hope."
-Thomas Merton, Conjectures of a Guilty Bystander
More: 
The Thomas Merton Center [link]
Director's page for "Soul Searching," a documentary about his life [link]